Alan Reuther: the UAW's Voice in Washington
Posted July 16th, 2012 by mosmith
in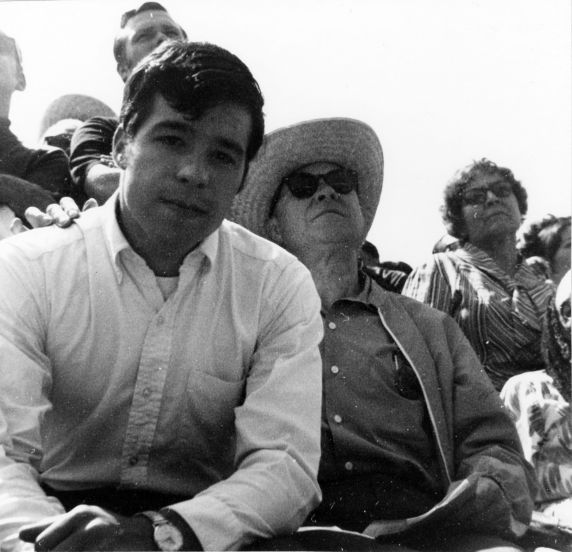 The Walter Reuther Library is pleased to announce that an oral history with Alan Reuther is now open for research. Alan Reuther was the Legislative Director for the United Automobile Workers of America (UAW). He served in the UAW's Washington Office from 1982 until his retirement in 2010. Over the course of his tenure as Legislative Director, Automotive News often cited Reuther as one of the 50 most influential people in the auto industry.
Born on September 26, 1949, Alan Reuther was the son of Roy and Fania Reuther. Roy Reuther was one of the three famous Reuther Brothers (Walter, Roy and Victor) who were officers of the UAW. Alan Reuther was the only child of the three brothers to have a career in the labor movement, particularly, in the UAW.
Reuther was raised in the suburbs of Detroit and grew up in the midst of historic UAW growth, bargaining gains and union power led by his father and his famous uncles, Walter and Victor. His three uncles and their families often met at Walter Reuther's home for meetings and family gatherings, where the topics of discussion usually centered on the labor movement and national politics. His mother, who was born in Russia, had also been an activist and part of the Women's Emergency Brigade during the Great Flint Sit-down in 1937. Since both Walter and Victor survived assassination attempts in 1948 and 1949, respectively, the Reuther home was also in a rather isolated area, with extra secure doors and treatments like bulletproof venetian blinds. Alan's closest childhood friend and at times, competitor in sports and games, was his older brother, David.
Upon graduation from high school, Reuther attended the University of Michigan, where he earned an undergraduate degree in history. After college, he was drafted by the Selective Service, as a conscientious objector, performed two years of public service, and then, spent a year in Europe as an intern with the Belgium Metalworkers. By the time he entered law school at the University of Michigan in 1974, Reuther had decided that he desired a career working for the labor movement, and that a law degree was the best way to accomplish that.
With a law degree in-hand, it did not take Reuther long to begin his career. After graduating on a Saturday morning in 1977, he flew off to the UAW Constitutional Convention, and began his 33-year career with that union. His first position was in the UAW's Legal Department, headed by John Fillion, and there he made his bones and earned a reputation as a keen legal mind. As Reuther states: "At that time in the Legal Department, it wasn't just churning through cases. We were given the freedom to think of doing test cases on different issues."

Ultimately, Reuther was interested in national politics and hoped to work in Washington, D.C. in some capacity. In 1982, UAW President Douglas Fraser, who recognized Reuther's talents, diligence and initiative, appointed Reuther to the UAW's Washington office. In 1991, Reuther became the director of legislative affairs for the UAW. He held this position until his retirement from the union in 2010.
By all accounts, Alan Reuther made his career in the UAW on his own merits. He recognized that he had a special burden of responsibility since he carried the name of the union's most famous president and member, but his personal accomplishments were many. As director of legislative affairs, Reuther worked with four UAW presidents, and had relationships with two others, including his uncle Walter. As the union's chief lobbyist, he also worked closely with U.S. Congressmen and Congresswomen, Senators and Presidents. Like his father, who was considered the "gentler" of the three Reuther Brothers, Alan Reuther was modest, soft-spoken, with a keen intellect, all of which earned him great respect among his peers and opponents.
In his oral history, Reuther provides insights into a great number of important subjects. Aside from his life history, he speaks to being a member of the Reuther family and his experiences with his uncles, as well as his interactions and impressions of UAW Presidents and U.S. leaders in Congress and Washington. And, most important, discusses his impressions of the labor movement, his work to push labor's agenda in Congress, the grass-roots nature of labor initiatives, and his personal work drafting legislation, working in the political arena, and his many successes, along with some of his failures and regrets, including such topics as negotiations between the auto industry and the UAW, the North American Free Trade Agreement, national health care, and Social Security.
The Alan Reuther Oral History is now available at the Reuther Library. It can be accessed through the Library's Reading Room.
Michael O. Smith is the Archivist for the International Union, United Automobile, Aerospace and Agricultural Implement Workers of America (UAW) and Jewish Community Archives (JCA).