Meet Beth Myers, New Reuther Director
Posted September 7th, 2012 by teller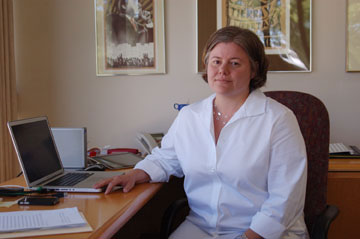 This September the Reuther Library welcomed its new director, Beth Myers, PhD. Myers comes to the Reuther from Loyola University Chicago, where she served as the director of the Women and Leadership Archives for five years.
Myers received both her master's degree and doctorate in history from Loyola University Chicago, in which she focused on 20th century American history, public history, and women's history and gender studies. Having already held a "sampler plate" of positions at various Chicago area archives, Myers received two competing job offers following the completion of her program: a traditional academic position, and the opportunity to lead the Women and Leadership Archives at her alma mater. She has no doubt she made the correct career decision. With a "fleet of incredible assistants, students, and volunteers," Myers worked to gain physical and intellectual control over the WLA collections, conducted extensive outreach to raise the archives' profile, and enjoyed the privilege of establishing relationships with donors.
Myers' research interests include women's archives, the relevancy of archives in the digital age, and exploring issues of power, access and ethics in archives and archival collections. In addition to participating in the 2010 Archives Leadership Institute, Myers is an active member of the Society of American Archivists, the Midwest Archives Conference, and the Chicago Area Archivists.
When asked why she wanted to come to the Reuther, Myers responded, "Why wouldn't I? It's the dream job. It's so well known and respected, such a venerable institution." In the near term, Myers will be looking inward at the Reuther to better understand its staff, systems, and ongoing projects and relationships. In addition to working with the Reuther's existing donors and partners, she hopes to further its community outreach activities, raising the profile of the Reuther both on campus and off. She also is looking forward to engaging with the Reuther staff in inclusive and open strategic planning. "We know what the Reuther is and what it's done," Myers notes. The strategic planning process will allow the staff to explore "what we can be and where we want to be in the future."
During her short time at the Reuther, Myers has enjoyed getting to know the staff, learning the layout and quirks of the building, and embracing Detroit. "I like Detroit," Myers muses. "It is urban, but it's a different kind of urban. It has all the benefits of an urban city without the density." An avid gardener, Myers is happy to have more space to spread out with her husband, Ryan, and young daughter, Quinn.
Troy Eller is the Archivist for the Society of Women Engineers.