Meet Alexandra Orchard, New SEIU Archivist
Posted October 29th, 2012 by teller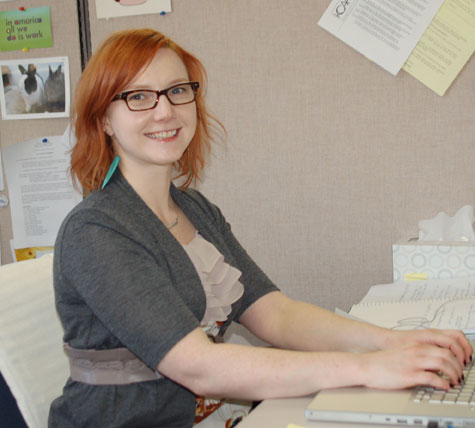 This month Alexandra Orchard joined the staff of the Reuther Library as the new SEIU archivist. Being a long-time member of the Wayne State University community and having a family history in the labor movement, Orchard is looking forward to supporting the missions of the Reuther and SEIU. She hopes to build on the work of SEIU's previous archivist, Louis Jones. In addition to ensuring that the SEIU archival collections are well maintained, well known, and accessible to researchers, Orchard also plans to work with SEIU and the Reuther to implement new archival projects and initiatives.
Orchard is no stranger to Wayne State University. In addition to completing significant coursework in computer science, she also received her Bachelor of Arts in English, Bachelor of Fine Arts in painting, and her Master of Library and Information Science from the university. While pursuing her MLIS, Orchard successfully completed archives practicums and internships at the University of Michigan Special Collections Library and Allied Vaughn, where she helped to process the records of the Livonia Youth Symphony Orchestra before being hired as an indexer. She also served as the first president of the WSU Student Chapter of the National Digital Stewardship Alliance, reflecting her interests in: digital preservation, particularly permanent metadata attachment; archival standards; and integrating traditional formats with electronic/digital media. Prior to pursuing a career in archives, Orchard worked as a user interface designer and user experience designer for TiVo and JSTOR.
When not archiving, Orchard enjoys baking, knitting, embroidery, and working with her husband, Les, to decorate and preserve their historic home.
Troy Eller is the Archivist for the Society of Women Engineers.