Announcement: Reuther Library Reading Room Renovation Completed
Posted January 12th, 2015 by kchinery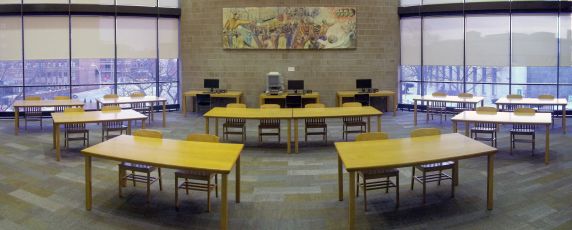 In January 2014 the Reuther received a generous donation, which could be used for any purpose as it was not dedicated to a specific account or project. After careful consideration of how to use the funds, a decision was made to update the Reading Room, the first renovation to the room since the building's construction in 1975. The donation allowed us to purchase new furniture, to install new carpeting, to repaint the room, and to refurbish the Reading Room's reference desk.
Renovation planning began in February, and staff began moving collection material out of the Reading Room and into temporary locations throughout the building over the summer.
This work led to an inventory of the labor and urban vertical files that ultimately will be used to create a finding aid, which will increase access to previously undiscoverable articles and pamphlets.
Once the start date was set, staff moved all Reading Room operations to the Reuther Conference Room. This relocation was completed in a few hours, with no interruption to reference services. Work to remove broken shelving and repair walls behind the reference desk began in September, with new carpet installation and a fresh coat of paint following shortly thereafter. New tables and chairs were assembled by a team from University Libraries.
After seven weeks of construction, operations were back up and running in the Reading Room. With the use of a temporary reference desk, the Reading Room was re-opened for the North American Labor History Conference in October. Replacing the entire 11 foot surface of the reference desk and surround with one solid piece of Corian was the final piece of the renovation project, and was completed the week before the holiday break. The Reuther staff could not have received a better Christmas present!
Kristen Chinery is the Reference Archivist for the Walter P. Reuther Library. Additional photographs of the Reading Room renovation can be seen at the Reuther Library Facebook page.