Collection Spotlight: The Detroit Latino Records
Posted February 17th, 2015 by Public Relation...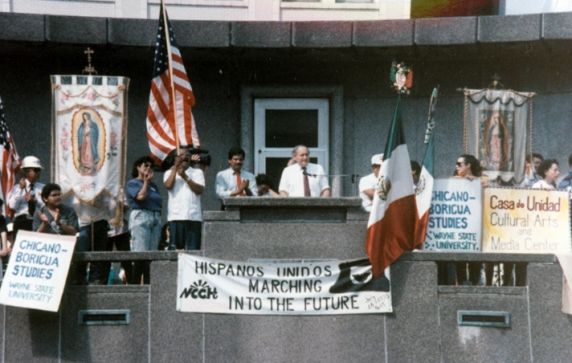 The Reuther Library recently had the privilege of opening the Detroit Latino Records to researchers. This collection consists of materials from numerous organizations gathered by Wayne State University professor José Cuello. Dr. Cuello has spent his career as an educator, researcher and activist for the Latino community and these records reflect his involvement in this community from 1969 to 1995.
The Detroit Latino community has remained cohesive and thriving throughout Detroit's tumultuous political and economic climate. According to the 2010 census, Detroit's Latino population grew by approximately 70 percent between 1990 and 2010. This growth has boosted the Latino/Hispanic population's stake in Detroit's overall population from about five percent to about seven percent. This is notable because this growth occurred during a time when people continued to migrate out of Detroit. This can largely be attributed to the emphasis Detroit's Latino population has placed on culture and community through building organizations that tackle education gaps, unemployment, and urban issues, as well as organizations such as Latino Detroit Press which brings local, national, and international issues to the forefront for readers in both Spanish and English.
Moreover, Detroit's Latino community has created groups to encourage business growth and development primarily in Southwest Detroit. These groups have ensured that Southwest Detroit's small businesses remain successful, in addition to fostering a welcoming environment for new businesses. According to a 2010 NPR article entitled "Latino Businesses Flourish in Detroit," Mexicantown businesses are estimated to have grown approximately 34 percent between 2007 and 2010. It is essential to recognize the role of small businesses in a depressed economy: small business owners tend to put money back into their own community, which continues the positive cycle of growth for Detroit's Latino community.
Although Detroit's Latino community has encountered its share of problems, the community has continuously put forward solutions by creating after-school activities, continuing education courses, job growth and development initiatives, and cultural programs. The community's success has grown from its ability to tackle issues head-on through programs that recognize the individual needs of the community as well as the importance of cultural retention. This collection includes materials from many of these projects from their birth to their implementation.
Detroit's Latino population has placed a great emphasis on partnerships with other organizations, both within and outside of their community. Organizations in the Detroit Latino Records include the National Council of La Raza, Michigan Hispanic Chamber of Commerce, Mexican American Legal Defense and Educational Fund, and New Detroit, Inc. and its Latino Caucus. New Detroit, Inc., was created by J. L. Hudson, Mayor Jerome Cavanagh, and Governor George Romney after the 1967 civil unrest in order to tackle civil rights violations and to improve human services in Detroit such as education, health, and labor. New Detroit's advocacy and support led to the creation of the Latin Americans for Social and Economic Development (La Sed) and the Center for Chicano-Boricua Studies (now the Center for Latino/a and Latin American Studies) at Wayne State University, both of which are included in this collection. The Reuther also holds the records of New Detroit, Inc.
This collection also encompasses the work of many organizations involved in the Consortium of Hispanic Agencies, such as Community Health and Social Services Center (CHASS), Latino Family Services, and SER, Jobs for Progress, Inc. The Consortium of Hispanic Agencies (CHA) was created in the 1970s and formalized in 2010 with funding from the Skillman Foundation. CHA focuses on policy change, social justice, advocacy, and culturally appropriate services for people in Southwest Detroit.
Finally, this collection includes materials created by Detroit Latino Agenda and Coalition, an organization that was started by the Center for Chicano-Boricua Studies at Wayne State University in 1990. The organization focuses on challenges and opportunities for Detroit's Latino community and it creates conferences in order to foster discussion and collaboration in the greater Detroit Latino community. The group has continuously held meetings with political leaders in order to affect change in their community. The consortium has also worked with Wayne State's Center for Latino/a and Latin American Studies in order to develop the Detroit Latino Agenda, which includes plans for economic growth, education, political empowerment, and solutions to community issues such as health and labor.
Meghan McGowan is an Archives Technician at the Walter P. Reuther Library of Labor and Urban Affairs and a recipient of the Ronald Raven Annual Award.