Wayne Alumna Viola Gregg Liuzzo Honored for Her Work as a Civil Rights Activist
Posted March 20th, 2015 by ljones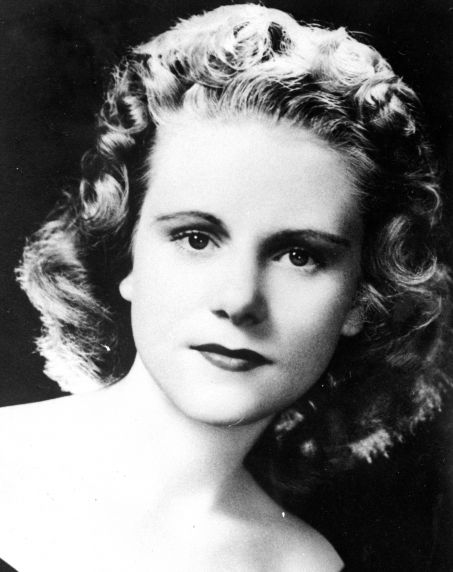 This spring 2015, Wayne State University will be honoring one of its own whose contribution to humanity exemplifies the best in humanity. In March 1965 Viola Gregg Liuzzo traveled to Selma, Alabama in response to Martin Luther King, Jr.'s request of support for a voter registration drive in that state. On March 25, after the last of three marches that month, Liuzzo was shot and murdered on Highway 80 outside of Selma, Alabama while assisting with the transportation of marchers on the way home from the protest.
While many have read about or remembered the 1965 marches in Selma, others are familiar with that event from the 2015 critically acclaimed movie Selma chronicling the marches in support of voter registration in Alabama, including Bloody Sunday, that left many of the participants brutally beaten by law enforcement after the marchers crossed Selma's Edmund Pettus Bridge. It was this march and a subsequent one two days later that prompted Liuzzo to travel to Selma in support of voting rights for African Americans.
In a ceremony to be held in the Spencer Patrich Auditorium in the Wayne State University Law School on April 10, Wayne State University is awarding Liuzzo an honorary doctorate of laws, the first one ever conferred posthumously at Wayne State. April 11, 2015 will mark what would have been Liuzzo's 90th birthday and later in the week, on April 13, Morris Dees, co-founder and chief trial counsel for the Southern Poverty Law Center will speak about Liuzzo at the annual Dean A. Robb Public Interest Lecture sponsored by the Damon J. Keith Collection of African American Legal History. Robb represented the Liuzzo family in its unsuccessful civil suit against the Federal government in the early 1980s for what the family argued was the FBI's complicity in their mother's murder.
In the weeks prior to her brutal murder, a cadre of Wayne State University students, staff and faculty supported the events in Selma with protest marches outside of the White House in Washington, D.C. and in Detroit at the Federal Building where the local FBI had an office. Liuzzo was unlike many of these activist-minded students on campus. At 39, married, white and the mother of 5, she did not fit the typical profile of a civil rights activist. Her profile is part of the reason why she did not draw the same kind of media attention that other civil rights advocates received.
That profile, in fact, drove J. Edgar Hoover's FBI to paint her with a brush that significantly skewed and skewered her true character. His agenda was clear: to misrepresent her in order to deflect attention from his agency's complicity in her murder. Gary Rowe was the FBI informant that accompanied the men who were ultimately charged with her murder. Rowe himself had a checkered past, having infiltrated the Ku Klux Klan and participated in the type of activities for which the Klan is best known. Most damning, Rowe failed the polygraph tests associated with his knowledge of the murder. Collie Leroy Wilkins, William Orville Eaton and Eugene Thomas, who were actually charged with her murder, all passed a polygraph test where they fingered Rowe as Liuzzo's assailant. Most of the media, who never took the time to investigate the substance of her life and what truly motivated her to work on behalf of civil rights, found it easier to report leaked stories they received from the FBI. Rowe was never indicted, and while those in the car with him when Liuzzo was murdered did receive lengthy prison sentences on federal charges of conspiracy to violate Liuzzo's civil rights, no one was convicted of her murder.
Liuzzo knew something of the racism with which southern African Americans were routinely subjected, as she had grown up in the South. She remained uncomfortable with the racism she witnessed, even as a child, and her parents raised her and her sister to think differently. As she matured into adulthood she would teach her own children these same lessons in both words and deeds. In this context, it was no surprise that she would join the Detroit chapter of the NAACP, with the urgings of her closest friend Sarah Evans, and attend a civil rights seminar in New York City.
As a student at Wayne State University, Liuzzo was deeply influenced by its Chaplain Reverend Malcolm Boyd. Labeled a beatnik who had participated in the Freedom Rides of 1961 and castigated by Wayne's administration for meeting with Malcolm X's brother, Wilfred X, Boyd stressed the importance of taking action. Liuzzo's biographer explained that Boyd believed that "there are no born heroes. We are what we do, not what we think or what we say." Her children would often say of their mother, "Vi was real, she was genuine, she really cared." This is the Viola Liuzzo who made her closest friend, Sarah Evans, an African American, promise to take care of her children should anything happen to her; who traveled to Alabama to support a civil rights march against the wishes of her husband; who defied southern customs by sitting next to Leroy Moten, an African-American civil rights activist, in a car with Michigan license plates while in the course of transporting marchers following the third march in Selma.
Liuzzo's legacy is complicated by other realities reflecting poorly on how issues of race play out in social and political discourse. Numerous dignitaries attended Liuzzo's funeral, which was televised. No such respect or recognition was accorded the family of Jimmie Lee Jackson who had been mortally shot by an Alabama State Trooper who had chased him into a café following a peaceful march in an Alabama town in February 1965. That said, Liuzzo's murder and the events associated with voter registration amongst African Americans in Alabama all paved the way for the Voting Rights Act of 1965.
Wayne State University's Walter P. Reuther Library has its own connection with Viola Liuzzo. Her son Anthony donated a 15-box collection of records and papers. As enumerated in the guide to the Viola Liuzzo collection, it "contain[s] documentation of the events surrounding the murder of Liuzzo, the resulting investigation, and later litigation on behalf of the Liuzzo Family. They include FBI murder investigation files, legal precedents to the 1980s lawsuit, related legal motions and proceedings, correspondence, and depositions from FBI handlers, expert witnesses, and eyewitnesses. The collection also contains the fulfilled Freedom of Information and Privacy Act (FOIPA) requests for the FBI's involvement with the Ku Klux Klan, FBI policy, information about the Liuzzo family, and a portion of documents related to the Freedom Riders." These papers were secured through the efforts of her family, particularly Anthony, as attorneys sought to pursue civil litigation against the FBI for its complicity in the murder of their mother.
Other resources at the Walter P. Reuther Library provide some insight into Liuzzo's life as a student at Wayne State University. Photos of one of the 1965 marches in Selma are located in the recently processed Ruthven "Rudy" Simons Papers. Also housed at the Reuther Library are photos of Martin Luther King, Jr. at the voter registration drive that brought him and other civil rights advocates, including Liuzzo, to Selma in March of 1965. Included in the collection of Detroit-based photographer Dale Rich are photographs of the 2015 commemoration of the 1965 marches where President Barack Obama provided remarks. And then there is Wayne State University's student newspaper, the Daily Collegian, which regularly reported on the events associated with the marches in Selma and the voter registration drive that captured the attention of the nation at the time and remains an iconic moment in the Civil Rights movement.
These sources, of course, only capture a portion of what constituted Viola Liuzzo's life and, as in the case of the collection at the Walter P. Reuther Library that bears her name, it shows the lengths to which the FBI went to deflect attention from its complicity in her murder. To her children, however, Liuzzo was, as her biographer recounts, a "lively, feisty presence who had encouraged them, pushed them, taught them that life was an adventure and that other people counted." Following their mother's murder, her children were taunted at school and while the Liuzzo family received condolence cards, shipments of hate mail arrived at their home as well. As for her husband, he was saddled with suggestions that he couldn't "control" his wife and that she traveled south to pursue salacious relationships with African-American men. These were lies, but because the truth reflected so poorly on the FBI, her assailants, southern segregationist culture and a certain perspective on motherhood, lies are what held sway with many. The truth was that Liuzzo loved her family, hated injustice, and saw no contradiction between the two.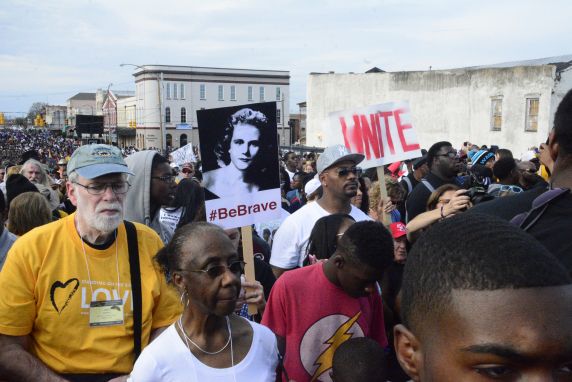 Sources Cited:
Mary Stanton, From Selma to Sorrow: The Life and Death of Viola Liuzzo (Athens, Georgia: University of Georgia Press, 1998).
Ruthven "Rudy" Simons Papers, Walter P. Reuther Library, Wayne State University.
Viola Liuzzo Papers, Walter P. Reuther Library, Wayne State University.
Dale Rich Papers, Walter P. Reuther Library, Wayne State University.
The Daily Collegian, Walter P. Reuther Library, Wayne State University.
Images Shown, top to bottom:
Viola Liuzzo portrait, 1963; Viola Liuzzo in Alabama, 1965; Civil rights march on the Edmund Pettus Bridge, Selma, Alabama, March 8, 2015, photographed by Dale Rich.
Louis Jones, PhD, CA, is the Field Archivist for the Walter P. Reuther Library.