SEIU's Justice for Janitors MOPSCAR Awards
Posted February 22nd, 2016 by gstrassel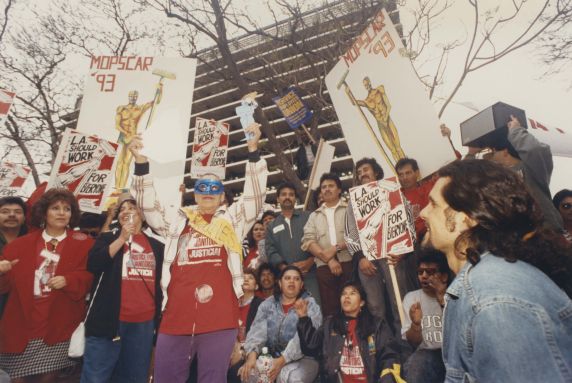 SEIU has a knack for creative protest imagery. In 1993, SEIU members parodied the Oscars to raise awareness of Los Angeles-area janitors demonstrating for improved working conditions. In recognition of this year's approaching Academy Awards, we will take a look back at this portion of the Justice for Janitors campaign.
By 1993, the Justice for Janitors campaign was in full swing after a series of successful demonstrations and gains. Still, certain organizations and individuals resisted the movement to provide janitorial workers with a living wage and safe workplace. To that end, Los Angeles' SEIU Local 399 (which would merge with Local 250 to form SEIU-United Healthcare Workers West in 2004) decided to humorously take advantage of a local institution with broad international appeal, the Academy Awards.
A flyer from the United Service Workers West archive explains the MOPSCAR's and its awarding criteria, "The MOPSCAR is given by SEIU Local 399, Justice for Janitors, to corporations, public agencies and community leaders in recognition of particularly poop performance in terms of janitorial working conditions".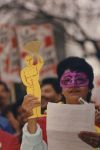 Local 399 picketer awarding a MOPSCAR at a J4J demonstration in Los Angeles. Credit: Doug Mazzapica, 1993.
The event took place in March 29th, 1993, the same day as the 65th Academy Awards. "Winners" included offending corporations that hired anti-union contractors such as Toyota and Hughes Aircraft along with civic organizations such as the Los Angeles Police Department. Awards paralleled the "Worst" categories for the Golden Raspberry Awards, only the MOPSCAR's recognized abysmal corporate and municipal practices. Illegal union busting and the violent putdowns of peaceful demonstrators stood in for acting and art direction. Members and supporters of Local 399 came out with homemade painted signs and announced the recipients of each MOPSCAR with a paper version of the iconic golden Oscar statue.
The MOPSCAR Awards demonstrate the creativity and vitality that ran through the Justice for Janitors campaign, powering it to be a transformative and critical force in the American labor movement. To top off the activities, the event hosted an appearance by Local 399 Justice for Janitors masked mascot Mopman. Keeping in in the theme of the Academy Awards and the red carpet, Mopman made a grand entrance by showing up in a limousine to cheering fans.
For photos of the MOPSCAR Awards and other imaginative SEIU demonstrations, visit the Demonstrating, Campaigning, and Organizing (SEIU) Image Gallery.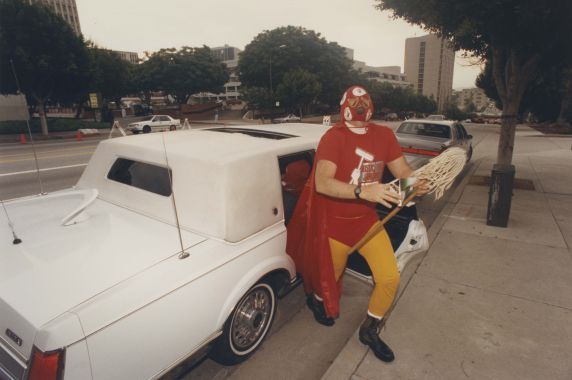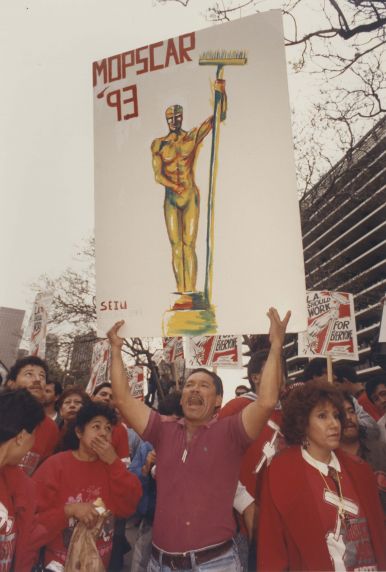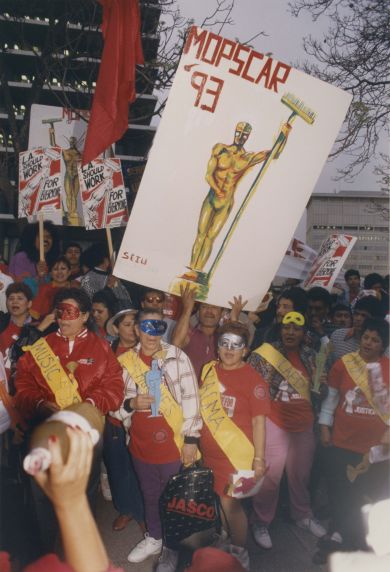 Gavin Strassel is the SEIU Archivist at the Walter P. Reuther Library
References:
SEIU Photographs Collection, Walter P. Reuther Library of Labor and Urban Affairs