100 Years of the American Federation of Teachers
Posted May 12th, 2016 by dgolodner
in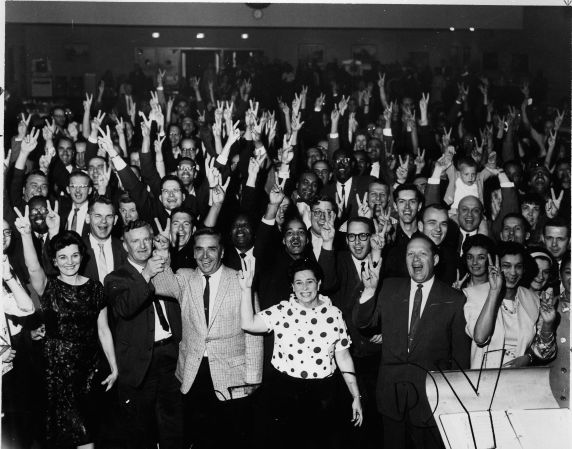 On May 9, 1916 the American Federation of Labor issued a charter to the American Federation of Teachers. For 100 years the AFT has shaped the conversation on public education, the American labor movement, civil and human rights as well as the true value of democracy in our society. The AFT started with 8 locals that represented fewer than 5,000 teachers across the country and now represents 1.6 million teachers, paraprofessionals, public employees and health care workers.
At first, Samuel Gompers believed that the trade union movement in America was just for those who worked with their hands and with tools. By 1913 he started to come around to the plight of the workers in the schools; the overcrowding, the lack of a living wage, the overwhelming feeling that the teachers were working an assembly line of children with no say in how children were being educated. When the AFT was formed in 1916 Gompers was happy to charter them into the house of labor. At an informal luncheon in Chicago with the newly formed AFT, Gompers gave the new union sound advice about their future, "One cannot force progress but one can help to lead it along the right path."
The idea of a teacher belonging to a union was unheard of and was thought to be unprofessional. There were many attacks on the AFT. In Chicago there was a rule that barred teachers from being associated with the AFL, forcing the largest local to withdraw in the first year. Nevertheless, by 1919 the union grew to 10,000 members. What followed were more attacks across the country. In Seattle teachers were forced to sign contracts that barred them from being members of the AFT. In Oklahoma teachers were told they would not have jobs if they were members of a union. In Norfolk a principal told teachers they would lose their jobs. Even parents were against union teachers and were vocal about it to the school board.
Though the 1920s was a very low point for the AFT, the union continued to survive and lead people to a right path. By the 1960s, public employees gained the right to bargain collectively with the their employer. The AFT grew rapidly, doubling its membership from 50,000 to 100,000 by the end of the decade. The AFT continued to become a strong union dedicated to saving public education from those who wished to privatize various aspects of the education. In the 1980s the AFT increased its membership to include heath care workers and public employees. At the same time the AFT became the union to bring new ideas and innovation to education reform.
The historical collections of the AFT and the numerous collections from AFT locals, state federations and personal papers reflect this growth. By aligning with labor the AFT was able to support teachers in ways that enabled them the freedom to teach.