SEIU's International Convention in Detroit
Posted June 4th, 2016 by gstrassel
in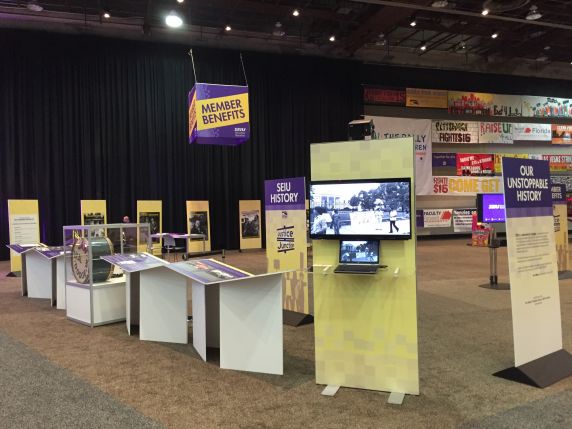 Few archives actively collect and collaborate with active donor organizations like the Walter P. Reuther Library. This special relationship was on full display at the 2016 International Convention of the Service Employees International Union (SEIU) in Detroit. The union made a special point to incorporate historical resources from the Reuther Library, its official archives, into the proceedings this May.
Content from the Reuther Library's collections made its way into convention activities in various ways. History exhibits created through months of collaboration between SEIU staff and the Reuther Library's SEIU Archivist featured archival records and artifacts to craft a narrative of the union's effort to empower low-wage workers. Displayed in the convention's "Justice Junction", the exhibits drew connections between the union's proud heritage and work done today by the delegates in attendance. Most noticeably, photographs from the archives were displayed on the convention floor's mammoth display screens to provide visual examples of SEIU's legacy to all convention goers.
These displays of historical records accentuated some of the most noteworthy moments of the convention, an event-filled affair that takes place only once every four years. New resolutions transformed the makeup of the union by formally incorporating striking fast food workers (Fight for $15) and newer civil rights groups like Black Lives Matter. They also voted to strengthen their relationship with AFSCME, another of the Reuther Library's partner unions. Most notably, a speech from Democratic Party presidential nominee Secretary Hillary Clinton brought national attention to the convention.
Attending this gathering was an amazing opportunity as a labor archivist. To witness a union convention for the first time illuminated the inner workings of the organization, enhancing my ability to archive and provide access to SEIU's records in the future. To see historical records incorporated into the convention so frequently and prominently underscored the possibilities and benefits of the Reuther's relationship with its partner unions. It also showed that SEIU is a union cognizant of its past, even as it shapes the future of the labor movement.
Gavin Strassel is the Service Employees International Union Archivist at the Walter P. Reuther Library.