Oral History Heroes: Millie Jeffrey
Posted December 9th, 2016 by rbizonet
in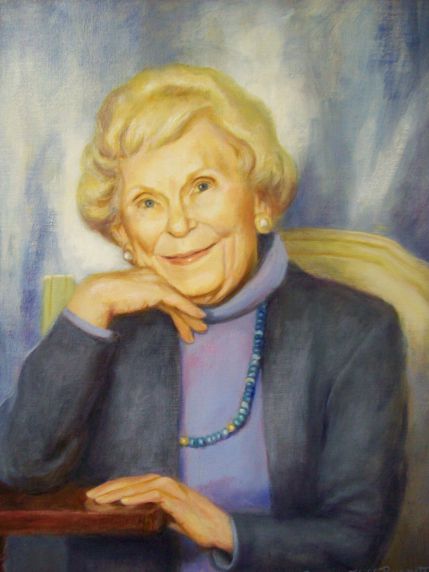 As the Oral History Project Archivist at the Reuther Library, my job is to arrange and describe our oral history collections so researchers can find them -- work that has been made possible by a National Historical Publications and Records Commission (NHPRC) Documenting Democracy grant awarded to the library in 2014. I've come to greatly admire many of the interviewees, and to be fascinated by their life stories and accomplishments. In a series of blog posts, I'll tell about some of my "oral history heroes" and what makes them special to me.
Mildred (Millie) McWilliams Jeffrey (1910-2004) was a labor leader and a champion for civil rights, women's rights, and social justice. She worked as a labor organizer for the Amalgamated Clothing Workers of America before becoming the UAW's first female division head in 1944. She was active in the Democratic Party, numerous women's rights and civil rights groups, including NOW, the NAACP, and the ACLU, and Detroit community and educational affairs. She also served on the Wayne State University Board of Governors for 16 years.
Jeffrey figures prominently in the Reuther Library's holdings. Besides her personal papers, we hold two oral history projects in which she participated, the Twentieth Century Trade Union Woman: Vehicle for Social Change Oral Histories, in 1977, and the Detroit-Area Feminists Oral Histories, in 2003. In addition, there is an individual interview conducted in 2002. For this interview, I had to watch portions of the video interview in order to determine its contents, since it does not yet have a transcript. That was when "the love of Millie" really hit me. Seeing as well as hearing this elderly but still very sharp woman talk about her life and times made me feel a pronounced connection to her.
In the interview, nearly five hours long, conducted over several days, Jeffrey talks in detail about her childhood in rural Iowa and later in Minneapolis, her college education at the University of Minnesota and graduate studies at Bryn Mawr, her entry into the labor movement, her long career with the UAW, and her activism and community involvement.
Three details from this narrative impressed me the most. First, her mother was a single mother of seven children and Iowa's first registered female pharmacist. She ran a drug store in Alton, Iowa, and later in Minneapolis, where she moved to enable better educational opportunities for her children. It was clear that she was a strong role model for Millie. Second, while in college, Jeffrey was active in the local YWCA. It was a progressive (or radical) branch whose membership organized interracial dances and worked toward desegregation of local restaurants, which she describes in her oral histories. Finally, I was moved by her description of her work in the 1950s on the Save Our Schools campaign (later renamed Serve Our Schools) to shift the Detroit school board and school system in a more liberal direction. It is clear in her heartfelt descriptions how much these efforts meant to her.
After working on this collection, I also realized, quite belatedly, who it was in the oil portrait I walk by every day. Before I'd cataloged Millie Jeffrey's oral history, she was merely a name on a plaque. After learning more about her life (almost) directly from her, I make sure to give her a silent, affectionate hello in passing. Thank you, Millie Jeffrey, for your work and your inspiration!