The Reuther Welcomes Shae Rafferty, LUAC Archivist
Posted May 10th, 2018 by gstrassel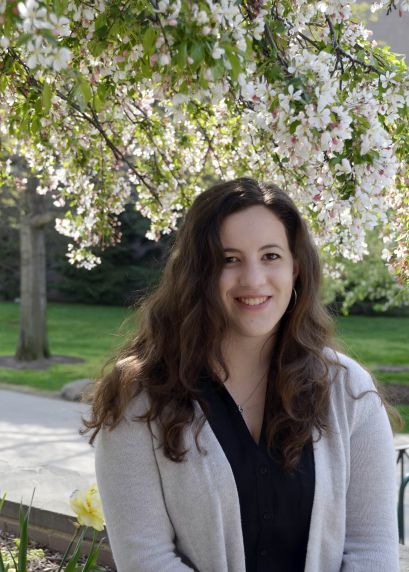 The Walter P. Reuther Library is pleased to welcome Shae Rafferty as the Labor and Urban Affairs (LUAC) Archivist. Shae brings a breadth of experience to this newly-created position that focuses on processing, arranging and describing new collections so they may be used by researchers, both labor and Detroit-related collections.
Shae's experience with processing goes back to her undergraduate days. While a senior at the University of Michigan, she began working at the school's Bentley Historical Library. When Shae matriculated to UM's School of Information archives program, she transitioned to the role of Collections Processor. This led to another promotion as Congressional Records Archivist, a vital role to the Bentley's expanding collection of political records. There, she processed 2,200 linear feet of records from Michigan's elder statesmen, Senator Carl Levin and Congressman John D. Dingell. Shae credits her love of processing to the challenge of establishing an order to the historical records of new or unfamiliar subjects. "I think a large part of this stems from my enjoyment of sorting through and solving puzzles, learning new things, and most especially my love of learning about people and their stories. What is better than a job that lets me do all of these on a daily basis?"
In her short amount of time at the Reuther Library, Shae has made a significant dent in the backlog of unprocessed collections. Already opening up seven collections for public access, these new materials cover a diverse range of topics that inter-connect across the Motor City. "My favorite part has been getting to learn so much about our collections and all the connections that run between them; these interconnections help create a more full and complex view of the past." She cites the NAACP Branch of Detroit, for which she processed an addition, also appearing in her other collections, ranging from a collection on public school desegregation to the personal papers of a City Councilwoman. Shae says, "It's pretty cool to see how all these people and organizations interacted and worked together."
Beyond processing, Shae has enthusiastically embraced a wide range of duties at the archives. She spearheaded an alternative spring break program at the Reuther Library, supervising graduate archives students who spent their vacation developing new archival skills. Shae has also written pieces for the Reuther Library blog, regularly assists patrons in the reading room, and curated digital records in LUAC collections. Not to be slowed down, Shae's plans moving forward include continued processing, expanding the Reuther Library's ability to process digital collections, and finding "more ways to work with and engage community, researchers, and students."
Gavin Strassel is the UAW Archivist at the Walter P. Reuther Library.