(46677) San Jose, pay equity, strike, urn
Posted April 28th, 2022 by scaloia
In front of San Jose City Hall, a woman speaks into a microphone while holding an urn in her other hand. The inscription on the urn reads "In memoriam here lies the remains of D. Termination presented to Francis T. Fox July 10, 1981." A sticker on the side reads "We support AFSCME."
In July 1981, members of AFSCME Local 101 San Jose Municipal Employees Federation, went on strike over the issue of pay equity. The city manager sent termination letters to the striking workers, who then burned them on a grill outside city hall.
Note: This image was scanned from a 35mm contact sheet.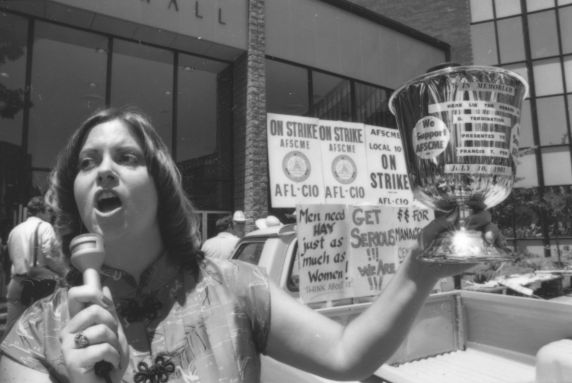 Photographer:
Lou Dematteis