Remembering AFSCME President Gerald McEntee (1935-2022)
Posted July 13th, 2022 by scaloia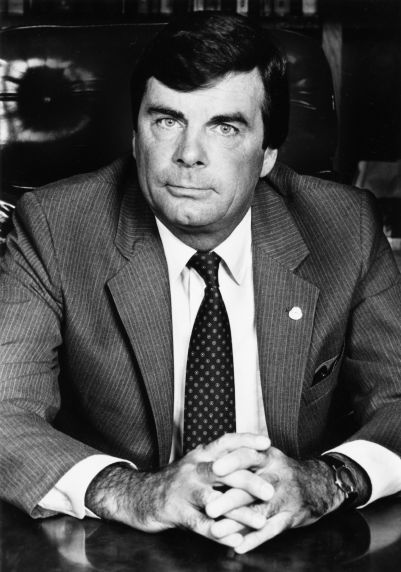 The Reuther Library is saddened by the news that Gerald McEntee, former president of the American Federation of State, County and Municipal Employees (AFSCME) has passed away at the age of 87.
McEntee grew up in a union household. His father, William McEntee, was an AFSCME legend in his own right – organizing Philadelphia sanitation workers in the 1930s, eventually leading District Council 33 and becoming an AFSCME International Vice President. In 1956, the younger McEntee followed in his father's footsteps and began his career with AFSCME. McEntee became an International Union Representative and immediately made an impression with successful organizing campaigns in Philadelphia and elsewhere. In 1967, he become Executive Director of District Council 33. His leadership resulted in Pennsylvania's Act 195 in 1970 which gave 76,000 Pennsylvania state employees the right to unionize and collectively bargain - ending the practice of patronage in the commonwealth. McEntee became Executive Director of the newly formed Council 13 in 1973. In 1975, he led some 50,000 state employees in a historic three-day strike which resulted in wage increases and other benefits.
McEntee became the third president of AFSCME after Jerry Wurf passed away in 1981. The early eighties saw the union aggressively pursue pay equity for its members. AFSCME also took a leading role in opposing apartheid under the leadership of McEntee and Secretary-Treasurer William Lucy. McEntee was arrested at an anti-apartheid protest outside the South African embassy in Washington, D.C. in 1984.
McEntee's early experiences with politics and legislation informed much of his work as president. Under his leadership, AFSCME focused on advocating for its members with a strong presence in federal, state, and local politics. Notably, he was an early supporter of presidential candidate Bill Clinton in 1992. Through AFSCME and the AFL-CIO's political committee, McEntee led voter education and mobilization campaigns. He worked alongside members during those campaigns, knocking on doors and passing out informational fliers. He also worked to support improvements to minimum wage laws, the Occupational Safety and Health Act, the Fair Labor Standards Act, and the Family and Medical Leave Act. In 1997, President Clinton appointed McEntee to the Presidential Advisory Commission on Quality and Consumer Protection in the Health Care Industry. In addition to his work for AFSCME, he was vice president of Americans for Democratic Action, director of the Board of Trustees of the Pennsylvania Health and Welfare Fund, and served on the Democratic National Committee Labor Council. McEntee retired from AFSCME in 2012.
AFSCME's relationship with the Reuther Library began in 1974 and President McEntee continued to support the program, adding a full-time AFSCME archivist position in 2008. Records from McEntee's tenure as president are available for researchers interested in learning more about his career, as well as a forthcoming addition to the AFSCME Organizing and Field Services records. Please contact the AFSCME archivist for assistance.