UAW President's Office: Stephen P. Yokich Records Now Open
Posted April 28th, 2023 by gstrassel
in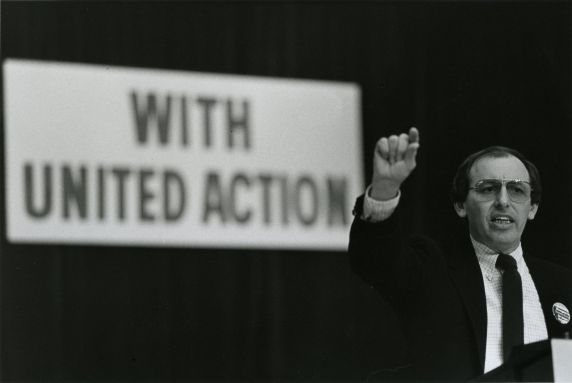 The Walter P. Reuther Library is pleased to announce the opening of the UAW Office of the President: Stephen Yokich Records, now accessible to researchers and the public. Elected the UAW's president in 1994, Stephen Yokich served in that role until 2002. In that time, he guided the union through a time of contraction in industrial manufacturing and helped it expand into new fields. In many ways, the UAW today took its current form during the Yokich administration. Still the papers greatly reflect the union's work representing workers in the UAW's traditional fields of automotive, aerospace, and agricultural implement manufacturing. The 143-box collection also documents his works before the presidency, serving on national bargaining committees opposite Big Three firms while still a Vice-President.
These papers represent more than the work of a single individual, they document the highest levels of decision-making by the UAW at the turn of the century. Within the UAW, the International President dictates much of the union's numerous activities. These types of UAW collections from the president's office touch upon every department, numerous UAW locals, political causes, community organizations, other labor unions, and much more. They are a rich overview into the union and the UAW's place within society in that moment and time. From Walter Reuther to Owen Bieber, the archival records from past UAW presidents have been essential to countless researchers, and I hope the Yokich Records results in thought-provoking research in the immediate future.
Learn more about the UAW Office of the President: Stephen Yokich Records and our other archival collections by visiting the Reuther Library's website.
Gavin Strassel is the UAW Archivist at the Walter P. Reuther Library, Archives of Labor and Urban Affairs.