Subject Focus: History of Labor Day in Detroit
Posted August 24th, 2010 by kchinery
in
Few cities are more closely tied to the labor movement than Detroit. From the outset, Labor Day in Detroit was about worker demonstration, which typically took the form of a parade. The city's first Labor Day celebration was held on August 16, 1884 in Recreation Park and attracted 50,000 spectators. The earliest Labor Day image in the Reuther's collections shows Randolph Street in downtown Detroit circa 1890s (pictured below).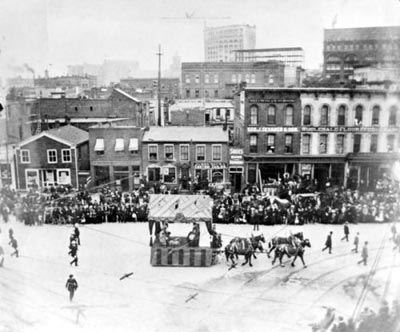 In its early years, the parade was used to voice the concerns of a fledgling labor movement and to celebrate the progress made by organized labor. As the holiday evolved nationally toward a more political focus, Detroit took on an important new role. After Harry Truman declared his intention to run for president at the 1948 Labor Day festivities (pictured below), Detroit's celebration became the launching point for Democratic presidential campaigns. Harry Truman, Adlai Stevenson, John Kennedy, and Lyndon Johnson each announced their presidential intentions in Detroit.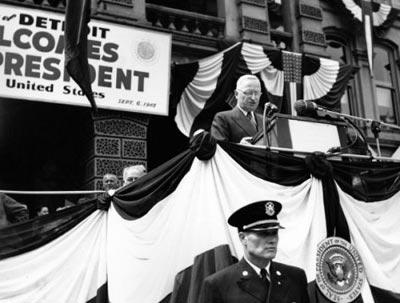 Labor Day enjoyed tremendous support from Detroiters during this period, but the enthusiasm could not be sustained. As the city lost its population to the suburbs in the 1960s, interest in the holiday's annual parade faded. Attendance barely reached 6,000 in 1966 and dropped even further during the 1970s. The parade was canceled until 1981, when a group of Detroit's surviving labor pioneers resurrected the tradition. Today, Detroit's Labor Day activities feature not only a parade and political speeches, but also several food and music festivals.
For more information concerning Labor Day in Detroit please refer to the following resources:
The Reuther Library website - Browse by Category - Labor Day
Kristen Chinery is the Reference Archivist for the Walter P. Reuther Library.