Solidarność Exhibit — 2010
Posted October 28th, 2010 by kchinery
in
Thirty years ago, Poland captured the world's attention when the workers of the Lenin Shipyard in Gdańsk went on strike and launched a national rebellion. Solidarność, the free trade union born during the strike, developed into a social movement that established a democratic government in Poland and eventually led to the end of the Cold War in Eastern Europe. The Reuther Library's latest exhibit, "Solidarność: Poland's Struggle for Freedom, 1980-1990," provides an historical account of Solidarność from the events leading up to the first strike in 1980 through the 1989 election in Poland.
The exhibit features powerful photographs taken during resistance activities and evocative graphics produced by Solidarność's underground press. Of particular note are the iconic Solidarność posters, which are recognized worldwide as visual reminders of the struggle between Communist oppression and freedom of speech. The exhibit also includes three large reproductions: a replica of the "21 Demands" issued by workers during the Lenin Shipyard Occupation Strike in 1980; a replica brick wall, which references the city walls across Poland that became communication centers for uncensored information; and a replica factory gate, where striking workers could briefly meet with their families and supporters left flowers, rosaries, and prayer cards.
In addition to the Reuther's own collections, the exhibit showcases material from several institutions and individuals, including the Polish government, American Federation of Teachers, Archdiocese of Detroit, Hamtramck Historical Commission, Hamtramck Public Library, The Polish Mission at Orchard Lake, Tamara Sochacka, and the Albert Shanker Institute. Reuther staff members Kristen Chinery, Elizabeth Clemens, and Daniel Golodner served as curators for the exhibit. "Solidarność: Poland's Struggle for Freedom" is open to the public and will be on display until July 1, 2011.
For links to press coverage of the exhibit opening with guest of honor Lech Wałęsa, please visit http://www.facebook.com/reutherlib.
Select images from the exhibit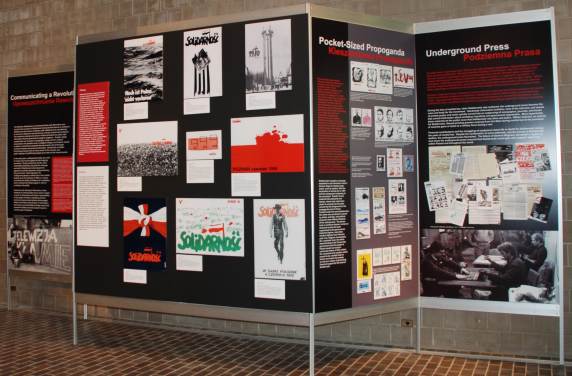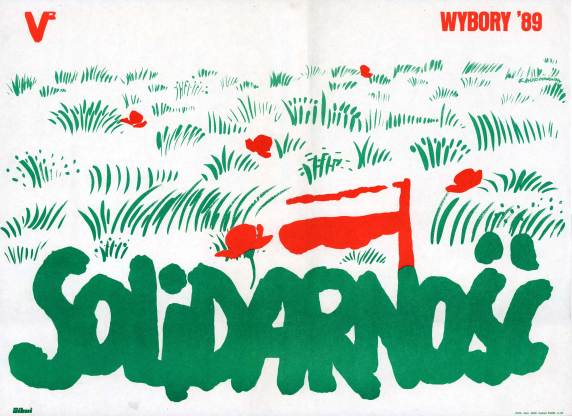 Kristen Chinery is the Librarian for the Walter P. Reuther Library.