Subject Focus: African American History at the Reuther Library
Posted February 1st, 2011 by wlefevre
The Reuther Library celebrates African American History Month with a look at some of the significant collections housed in the library that deal with African American history.
A gem from Rosa Parks's collection is a set of her hand written notes from her time at the Highlander Folk School in 1955, shortly before the Montgomery Bus Boycott. These notes showcase her train of thought on non-violent protest and serve as prologue to the boycott.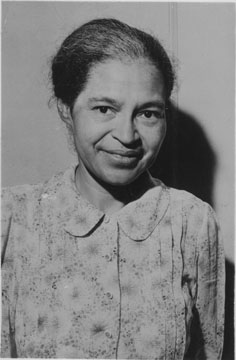 The NAACP Detroit Branch records highlight issues in housing, employment, education and police-community relations from 1943-1970. Materials on the Detroit race riot of 1943 point to systemic problems in race relations, some of which the City of Detroit would try to address with the City of Detroit Commission on Community Relations (DCCR), which was a successor to the City of Detroit Mayor's Interracial Committee. The DCCR is an especially rich source of material on race and housing issues, with detailed material on redlining and on how the neighborhoods in Detroit changed demographically over time.
One collection of particular interest to anyone looking at issues of segregation is the Grosse Pointe Civil Rights Organizations records. The collection is comprised primarily of the records of two Grosse Pointe organizations: the Grosse Pointe Human Relations Council, and the Grosse Pointe Committee for Open Housing. Both organizations battled for equal housing and equal employment in the five communities that make up the Grosse Pointes. The Grosse Pointe Human Relations Council was responsible for getting Martin Luther King, Jr. to speak at Grosse Pointe South High School three short weeks before he was assassinated in Memphis.

Social activism has a strong history in Detroit, and several collections highlight the roles of individuals and organizations in the fight for equal opportunity for African Americans and other groups in Southeast Michigan. Individuals such as George Crockett, Jr. and Ernest Goodman were early combatants on the civil rights front. Indeed, the Crockett and Goodman papers each reflect the 50+ years these two individuals battled for the civil rights of all citizens.
On the organizational front, such entities as Focus:HOPE and New Detroit grew out of the turmoil of the 1960s and battled problems in education, housing, insurance and other challenges of the 1970s, 1980s, 1990s and beyond.
The collections at the Reuther Library are so very rich in documenting the African American experience in Detroit, in Michigan and around the United States. The few collections highlighted here are simply a small taste of what a visitor will find while using the Reuther Library. You can explore the subject headings at the top of this post to see more related collections, and why not use African American History Month as your reason to visit and learn more?
William LeFevre, CA, CRM, is the Reference Archivist for the Walter P. Reuther Library.