Ford Hunger March
Posted March 18th, 2011 by kchinery
in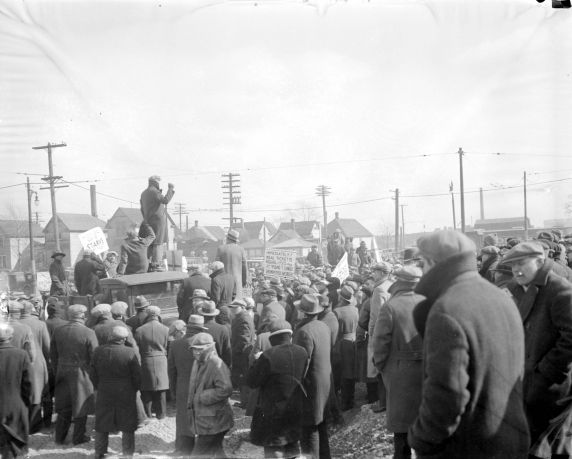 As the devastation of the Great Depression spread throughout Detroit, increased lay-offs and financial instability among Ford Motor Company workers led to an atmosphere of despair that reached an apex in 1932. These workers were among those who marched to Ford's River Rouge Industrial Complex in Dearborn, Michigan on March 7, 1932. This event, famously known as the Hunger March, was orchestrated by members of Detroit's Unemployed Councils, who had been helping unemployed workers fight evictions and seek relief from charitable agencies.
A group of 3,000 to 5,000 unemployed workers and supporters marched from Detroit to the Rouge Complex to give Henry Ford a list of demands, including the right to organize, relief and medical care for laid off Ford workers, and an end to racial discrimination, among other things. However, as the marchers approached the Fort Street Bridge at the Detroit city limit, peaceful demonstration met violence as the Dearborn police threw tear gas into the crowd in an attempt to end the protest. The marchers fought back, pushing the police onto the grounds of the Rouge where Dearborn police and Ford Servicemen turned fire hoses against them from inside the plant gates. After Harry Bennett, head of Ford's Service Department, sustained an injury, hundreds of shots were fired into the crowd killing four people and leaving as many as 60 wounded (a fifth man died later). In the aftermath, an inquiry was held but no one was ever charged in the killings.
On March 12, 1932, an estimated 60,000 people attended a mass funeral procession down Woodward Avenue in Detroit for the men killed in the Ford Hunger March: Joe Bussell, Joe York, Coleman Leny, and Joe DeBlasio. The procession ended at Woodmere Cemetery, where the four men were buried within sight of Ford's River Rouge Industrial Complex. A fifth man, African-American Curtis Williams, died on August 7 from injuries sustained during the attack. Due to the racial segregation of the era, Williams was not permitted burial in Woodmere and his ashes were scattered over the Rouge complex by airplane. Decades later, headstones were added to the gravesites of the four victims buried in Woodmere, including a fifth stone for Curtis Williams.
Further information about this pivotal event in labor history can be found in the collections of Joe Brown, Robert Dunn, Henry Kraus, Maurice Sugar, and Mary Van Kleeck, as well as the 1932 Ford Hunger March image gallery.
Kristen Chinery is the Reference Archivist for the Walter P. Reuther Library.