Subject Focus: Poet Laureate Philip Levine at Wayne State University
Posted December 2nd, 2011 by cwesterman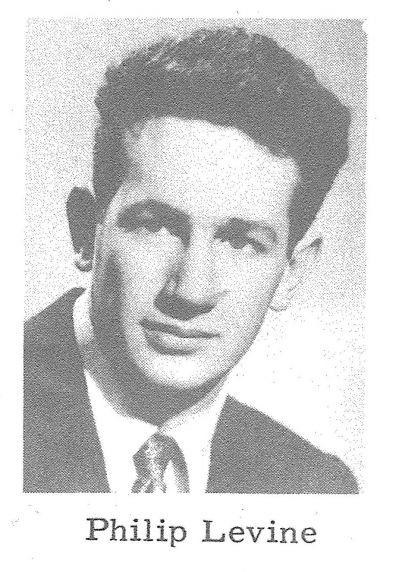 Philip Levine, a 1950 graduate of Wayne University, was appointed Poet Laureate of the United States in August of this year. Levine was born in Detroit in 1928, and his poetry is concerned with labor, industry and workers. In his short time as the nation's official poet he has not refrained from political activity: he made international news this month when an autographed book of his poetry he had donated to the "People's Library" of Occupy Wall Street was among those seized by the New York City Police Department.
Levine's 2002 book So Ask includes autobiographical essays reflecting on, among other things, his education at Wayne University in the years immediately after World War II. In the essay "On First Looking Into John Keats's Letters," Levine describes arriving at Wayne and studying the work of T.S. Eliot -- first overwhelmed by Eliot's lyrical power, then repulsed by his anti-Semitism. After his first year, he writes, he had to choose between two professors. Dr. Gene Sax, "the most elegant and seductive tenured member of the English Department," was a New Critic with a method of extremely close reading which greatly limited the number of poems read by his classes, and a habit of digressive explication which eliminated any need for student participation in lectures. Professor A.D. Wooly, in contrast, a "large rumpled man with a great head of gray hair going white," would assign sixty pages of reading for each class and read poetry aloud, "drawing on an unlighted pipe," without making any particular commentary on the works read. Sax taught Yeats, Eliot, Pound, and Stevens, Wooly taught Coleridge, Shelley, and Byron. "Even now, it seems unlikely that I would have dropped Dr. Sax's class and stuck with Professor Wooly's," writes Levine, but he was drawn in by Wooly's patience, silence, and understatement.
In the telling of the story, Levine seems to have been a secret agent in the English Department: an aspiring poet in private, studying literature but hiding his intention to write. "Detroit was not Greenwich Village, Cambridge, or even Berkeley; it taught you not to advertise all of your ambitions." Levine was therefore surprised when Wooly loaned him the letters of John Keats, which provided the young student with a framework, a behavioral model for producing the work he intended to create. Keats's concept of "negative capability" gave Levine a "road map toward poetry" on which he could "set out with realistic hopes."
The Faculty Directories and other resources in the Wayne State University Archives list no English professors by the name of Sax or Wooly. The names might be pseudonyms for real individuals, the men might be composites or blurred images of multiple teachers, or the essay might be a work of fiction. There are, however, verifiable traces of Levine's presence to be found in the archives. As a student, he studied and read in the English Department's Miles Poetry Room; he published poems and stories in Milestones, the journal of the school's Miles Modern Poetry Committee; and he attended the readings of Wayne's annual Miles Modern Poetry Week. This festival invited prominent poets to Detroit, including Randall Jarrell and Dylan Thomas during Levine's time as a Wayne student, and Louise Bogan, Robert Lowell, and John Berryman in later years.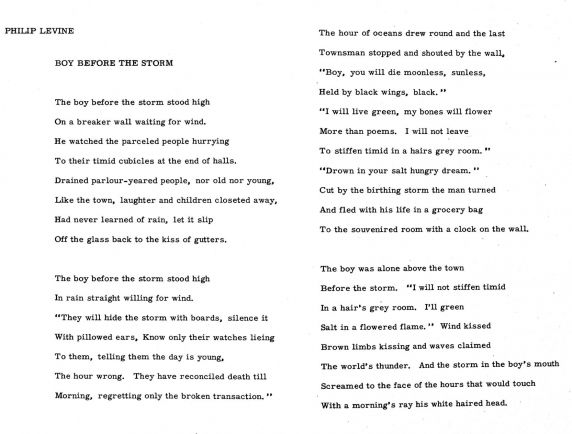 After his graduation, Levine taught poetry at Wayne before leaving for the University of Iowa, where he studied under both Lowell and Berryman. In 1964 Levine returned to Wayne State University as the first reader of the eighteenth annual Miles Modern Poetry Week. Other poets reading their work at that year's festival included Stephen Spender, Robert Duncan, Robert Creeley, and Muriel Rukeyser. Levine was the youngest, and is now the last surviving, poet of the five.
He spent the remainder of his teaching career at California State University, Fresno, where he taught literature and creative writing from 1958 until his retirement in 1992. He will hold the post of Poet Laureate Consultant in Poetry to the Library of Congress until the autumn of 2012; among his other laurels, he has been awarded two Guggenheim Foundation fellowships (1973 and 1980), the National Book Critics Circle Award (1979), the National Book Award (1991) and the Pulitzer Prize for Poetry (1995). More than twenty collections of his poems have been published.
In his interviews, Levine has not hesitated to speak about Detroit and Wayne, his home town and alma mater. In a 1977 conversation with Studs Turkel, Levine said of Wayne University, not yet a state institution: "When I went there it was run by Wayne County, and it really functioned as a school for the city. They had an enormous night program that allowed people who worked all day long to take a full program in the afternoon and evening. I was able to go to college because the school welcomed working-class people." Although Levine left Detroit over fifty years ago, he has returned to it, and its factories and citizens, frequently in his work. His poem "They Feed They Lion," a response to the 1967 uprising in Detroit, garnered widespread attention; writing it while living in California, he drew upon his memories of the 1943 race riot that began on Belle Isle and claimed 34 lives.
The Wayne State University Archives are open to interested researchers. Of particular interest to scholars of poetry are the records of the Miles Modern Poetry Committee, which contain correspondence between committee members and prominent literary figures such as Randall Jarrell, Marianne Moore, and Cleanth Brooks. The photograph of Philip Levine above is from the 1950 Wayne University Griffin yearbook, and the poem "Boy Before the Storm" is reproduced from the 1951 volume of Milestones in the Miles Modern Poetry Committee Records.
Casey Westerman is the Wayne State University Archivist.