Collection Spotlight: Ramon S. Scruggs, Sr. Papers
Posted February 11th, 2015 by gstrassel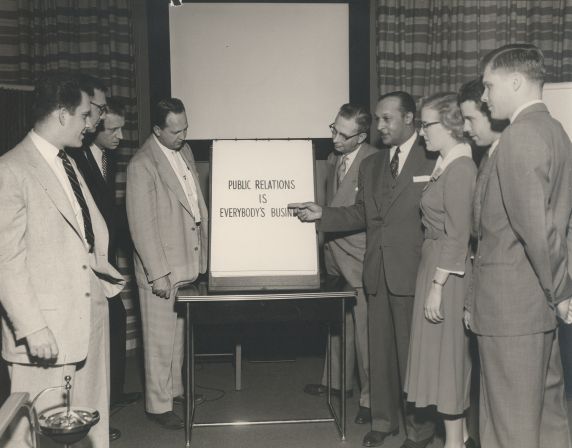 Best known as the first African American member of management at both the Michigan Bell Telephone Company and AT&T, Ramon S. Scruggs, Sr. served as an influential civil rights figure in the American business community from the 1940s until his passing in 1984. What separated Scruggs from many other civil rights figures was his focus on improving racial equality through integrating African Americans into positions of management within large corporations. The Ramon S. Scruggs Sr. Papers, recently opened to the public at the Walter P. Reuther Library, chronicle the subject's numerous accomplishments.
Scruggs' business-minded worldview seems to have developed during his undergraduate and graduate studies at Fisk University under the tutelage of influential economist Paul K. Edwards. Both men specialized in studying the buying habits and strong brand-loyalty of southern African Americans and they espoused the idea of an untapped market in America waiting to be approached by businesses. Specifically, this was to be accomplished through hiring African Americans into management positions in marketing departments. To test this idea, Edwards arranged jobs as national sales representatives for Scruggs and another colleague from Fisk University at the Rumford Baking Company in the early 1930s. It marked the first time African Americans held such prominent positions in the food industry and Scruggs' numerous sales paid quick dividends for the company. Despite his success marketing Rumford products across the country, Scruggs later resigned to spend more time with his wife, Marie.
Ramon Scruggs continued to break new ground for African Americans in the workplace when he was hired as the first African American manager at Michigan Bell in 1939. At a time when most companies denied management positions to minorities, Scruggs' appointment at Michigan Bell was something of a landmark moment in Southeast Michigan. Similarly to the Rumford Baking Company, Scruggs made an immediate impact by convincing Detroit residents who dropped their service to renew home phone lines. Throughout his time at Michigan Bell, Scruggs received more and more responsibilities, notably serving as manager of a newly created Gratiot public office. In spite of these successes, Scruggs faced direct insults from coworkers and indirect discrimination in the form of being passed over for promotions by lesser-qualified white coworkers. Even with offers from other companies, Scruggs decided to stay within the Bell system. This perseverance paid off when Scruggs transferred to AT&T as a Public Relations Manager. At AT&T, he travelled the country promoting affirmative action at Bell branches and speaking on race relations in the workplace. By the time Scruggs retired, he had risen to the rank of assistant vice-president at AT&T.
Beyond his business success, Scruggs became a nationally renowned civil rights spokesperson. This role began during his time at Michigan Bell in the 1940s, where the prominence of his employment thrust him into the spotlight. He spoke around the country and wrote many editorials about African Americans achieving equality through improving job opportunities. Scruggs saw the ability to have full careers in corporate America as a more pragmatic measure to improve race relations than militant protests. His desire to actively work within the system and pro-business attitude made him an ally to several influential politicians, notably then Vice-President Richard Nixon and especially Michigan Governor George Romney. Scruggs' friendship with Romney is chronicled in many letters between the two men found in the collection. Throughout his professional career, Scruggs' keen intellect and business-centric approach to racial equality garnered him respect from a wide-range of groups. This admiration is displayed throughout the collection, seen in the photographs of the immense turnout for his retirement luncheons and programs from conferences across the country where he served as the keynote speaker.
Ramon Scruggs also made significant contributions in the field of community service. Most notably, he served as president of the Detroit Urban League. He also was on the Board of Trustees at Fisk University, the NAACP Special Contribution Fund, and the Children's Hospital of Michigan (in 1957, he was the first African American to ever serve on a major hospital's board of trustees in the Detroit area). Scruggs' socially-minded work did not go unnoticed and he was seen as a community leader in the Detroit area. He received the Whitney Moore Young Corporate Excellence Award in 1973, the Urban League's Equal Opportunity Award in 1962, and was the subject of a testimonial luncheon hosted by the city of Detroit where 55 community members spoke towards Scruggs' character.
The Ramon S. Scruggs Sr. Papers are an enlightening tribute to one of America's most underrated civil rights leaders. The collection documents his many accomplishments, from press clippings announcing his latest business achievement to photographs of him receiving an honorary degree from Central Michigan University in 1965. Also exhibited are his views regarding achieving racial equality in America, demonstrated by transcripts from his many speaking engagements and the publications he wrote for AT&T. His close relationship to prominent politicians and business leaders can also be examined through the large amount of correspondence compiled in the collection. The papers serve as an essential intersection of Detroit history, civil rights, and corporate business practices in the 20th Century.
While other civil rights leaders made progress for African Americans by demonstrating to change the laws and social norms, Ramon Scruggs envisioned progress through integration of management in large businesses. While he today may not have the name recognition of other leaders, in his time he was nationally respected and played a pivotal role in ensuring African Americans and their interests were represented in the corporate community. When he was tragically murdered in a burglary in his Los Angeles home in 1984, the event made national news and the country took stock of his accomplishments. Our hope is that the collection raises awareness and produces greater insight into Scruggs' role in American history to ensure he is remembered for his unique take on civil rights, pioneering accomplishments, and service to his fellow man.
Gavin Strassel is the Service Employees International Union Archivist for the Walter P. Reuther Library of Labor and Urban Affairs.