UAW CAP Department Records Part II Now Open
Posted October 1st, 2021 by gstrassel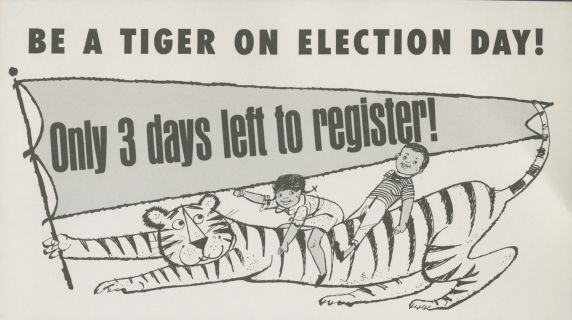 The Reuther Library is happy to announce the opening of an addition to the UAW Community Action Program (CAP) Department Records. These new records offer insights into elections from 1960-1972, with an emphasis on political races in Metro Detroit.
Thanks to the efforts of Roy Reuther and others, the UAW had the most influential political operation of any American union by the 1960s. Each UAW local was required to set up a political action committee, and these local committees worked in unison to educate the public on candidates and convince eligible voters to go to the polls. Candidates like John F. Kennedy understood the UAW's political operation could be the difference between winning and losing a swing state, and UAW union halls became a necessary stop on the campaign trail.
These historical materials reflect the UAW's complex political apparatus, and this addition contains advanced statistics on voter blocs compiled by the union, broken down by geography, age, race and ethnicity, and more. Massive get-out-the-vote operations are documented in the political ephemera the union made on behalf of pro-labor candidates from Detroit elections. The UAW mobilized thousands of volunteers and even paid staff and members to work on behalf of campaigns for political up-and-comers like Carl Levin.

These records join a CAP Department collection that documents Detroit's 1940s-1950s elections and political races from across the country. Before being named the CAP Department, this UAW office was called the Political Action, Citizenship, or Citizenship-Legislative Department at different times.
If you want to perform research with the UAW CAP Department Records or other archival collections at the Reuther Library, we are again open to the public. You can schedule an appointment, and walk-ins are also welcome.
Gavin Strassel is the UAW Archivist at the Walter P. Reuther Library, Archives of Labor and Urban Affairs.