Collection Spotlight: Robert F. Kennedy and the UFW
Posted June 3rd, 2011 by teller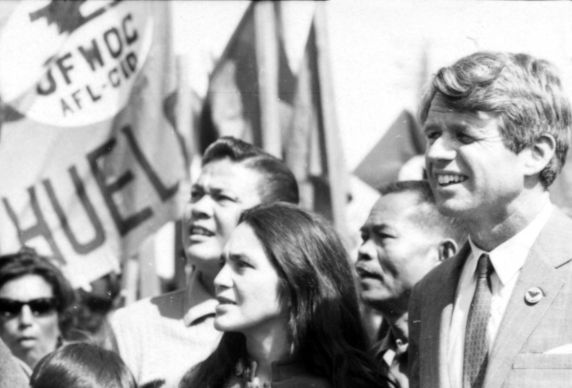 U.S. Senator Robert F. Kennedy strongly supported the advance of human rights and in doing so he forged a relationship in the 1960s with the United Farm Workers, a union that sought to improve the lives and working conditions of migrant farm workers across the country. Kennedy supported the workers during a 1966 Senate Subcommittee on Migratory Labor hearing in Delano, California. In the spring of 1968, when UFW president Cesar Chavez ended his 25-day spiritual fast, he invited Kennedy to sit beside him at a Catholic mass held with nearly 8000 farm workers, members of the clergy, and their supporters. Days later Kennedy announced his candidacy in the U.S. presidential race. In recognition of his continued support for farm workers, the UFW campaigned heavily for Kennedy in California's Mexican-American neighborhoods, which is widely believed to have tipped the state primary in his favor.
On the evening of June 4, 1968, Senator Robert F. Kennedy celebrated his victory in the California democratic presidential primary at the Ambassador Hotel in Los Angeles. A number of key supporters stood behind him as he spoke, including Dolores Huerta, UFW vice president. Shortly after midnight on June 5, hotel staff and aides led Kennedy though the hotel kitchen so he could speak to the press in another room. When the group reached the pantry, Palastinian immigrant Sihran Sirhan fired at them, hitting Kennedy multiple times. Kennedy died of his wounds in the early morning on June 6. Five others were also non-fatally shot, including UAW Region 6 director and Kennedy campaigner Paul Schrade. Chavez and Huerta would later found the UFW's health insurance plan in Kennedy's name.
In an oral history interview available in the Reuther Library Reading Room, Paul Schrade recalled at length his work with the UFW and the Kennedy campaign, as well as the night that he was shot and Kennedy was assassinated. The UFW Image Gallery offers a visual history of the organization, and includes evidence of Kennedy's work with the UFW. The operations of the UFW, including Kennedy's support of the union, is also well-documented in numerous collections at the Reuther Library. The records of the Agricultural Workers Organizing Committee and the National Farm Workers Association detail the beginnings of the farm workers movement. Their merger into the UFW and the union's subsequent actions to improve the lives and working conditions of farm workers is recorded in collections from numerous UFW departments, including the UFW Central Administration Records, the UFW Administration Department Records, and the UFW Office of the President: Cesar Chavez Records. Other important collections include the National Farm Workers Ministry Records, the Reverend James Drake Papers, and the Marshall Ganz Papers. The Reuther also holds the records of numerous state and boycott offices.
A complete list of UFW collections is available on the Reuther Library Web site.
Troy Eller is the Archivist for the Society of Women Engineers.