mwallace's blog
Posted January 20th, 2011 by mwallace
The Walter P. Reuther Library is pleased to announce the appointment of Casey Westerman as the new University Archivist. He will be in charge of the archival records of Wayne State University here at the Reuther. Casey is originally from Kankakee, Illinois. He attended the University of Illinois at Urbana-Champaign (UIUC) for his Bachelors in History and Philosophy of Science and his Masters in Library Science. He also recently achieved read more »
Posted October 19th, 2010 by mwallace
in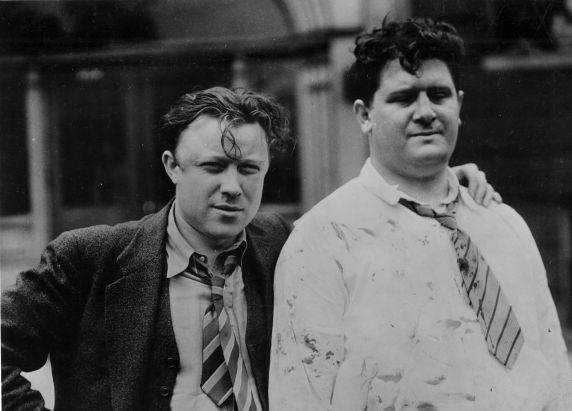 Walter Reuther and Richard Frankensteen shortly after being attacked by Ford Service men during the "Battle of the Overpass." The men were beaten for distributing United Auto Workers leaflets outside of the Ford Rouge Plant, Dearborn, Michigan, 23 May 1937.
The 2010 North American Labor History Conference will top off this year's event with a viewing of the latest cut of the new documentary Brothers on the Line on Saturday, October 23 at 11:00 AM.
The documentary, which relies heavily on the collections of the Walter P. Reuther Library, looks at the lives of the Reuther Brothers, Walter, Victor, and Roy, and their struggles to organize the United Auto Workers read more »
Posted July 21st, 2008 by mwallace
The Audiovisual Collections at the Walter P. Reuther Library consist of still and moving photographic images, sound recordings, art work and artifacts. The collections focus on three major historical subject areas: American Labor, Metropolitan Detroit, and Wayne State University, and include materials pertaining to 20th century industrial unionism, social, political, and radical reform movements, civil rights, women in the workplace, and twentieth century Detroit history.
Ordering digital images or photographs:
To order digital images/photographs (or other media types) download the AV_Material_Permission_Fees_Order_Form below and email it back using this
reutherreference@wayne.edu
link. An AV Archivist will contact you with the specifics of your order. Refer to the Reproduction and Use fee Schedules attached to the Request Form below for pricing.
The Audiovisual Collections are open to the public by appointment only. AV Department research hours are: 9:30AM-12:00PM and 1:00PM-3:30PM.
To schedule an appointment please contact us at reutherav@wayne.edu.


Direct AudioVisual reference questions by emailing us at: