Subject Focus: NAACP
Posted May 5th, 2011 by jruss
in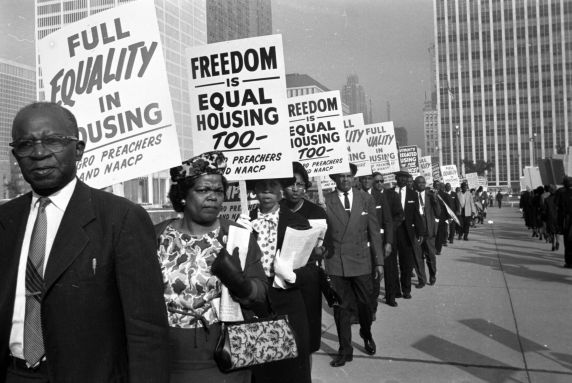 The National Association for the Advancement of Colored People (NAACP) was formed in early 1909. It held its first convention in May of that year. This May, 102 years later, we showcase collections related to the history of this vital civil rights organization.
The Reuther holds the papers of NAACP founding member Mary White Ovington. Her papers reflect the development of the organization and the civil rights movement generally. Also documenting the growth of the national organization are the papers of NAACP stenographer Carrie Burton Overton, civil rights leader Rosa Parks, and NAACP historian Charles F. Kellogg.
Reflecting the close relationship between the labor and civil rights movements are collections from labor leaders who also interacted closely with the NAACP. The papers of UAW leaders William Oliver and Willoughby Abner, the UAW President's Office: Leonard Woodcock Records, and the CIO Office of the Secretary-Treasurer's Records illustrate this relationship.
The Reuther also documents the NAACP in Detroit, which started in 1910, shortly after the national organization formed. The official story is told through the NAACP Detroit Branch Records, but much is added through the personal papers of important NAACP leaders in Detroit like Gloster Current, James J. McClendon, Ernest C. and Jessie M. Dillard, and Damon J. Keith.
In addition to manuscript collections, the Reuther also houses a number of NAACP photographs, many of which can be seen in our new image gallery.
The Reuther holds a number of other collections that illustrate the struggle for civil and human rights and racial equality in Metro Detroit and Michigan. Along with the NAACP Detroit Branch records, the records of the Michigan Coalition for Human Rights, the ACLU of Michigan: Metropolitan Detroit Branch, and Michigan's ACLU Oakland County Branch, among others, tell the story of this struggle. For more information on collections related to African American history, see our previous blog post.
The Reuther Library's urban affairs collections hold a wealth of information on the urban experience and the issues of inequality targeted by the NAACP. Please explore the holdings and come in to check them out in person!
Johanna Russ was the Archivist for the American Federation of State, County, and Municipal Employees (AFSCME) from 2008 until 2013.